Press Releases
January 18, 2018
For Immediate Release
Scranton, Pa. — JUJAMA, Inc. announces the release of Version 4.0 — the "container" app in response to Apple's guideline changes. The launch of the app includes a complete redesign and user experience, making its features even more attendee-friendly and engaging. With the introduction of Engagement Cards, the first of its kind in the event industry, […]
April 14, 2015
For immediate release
JUJAMA, Inc. is being recognized for creating jobs that pay and their economic impact within the commonwealth as part of the third annual Governor's ImPAct Awards. Awards will be presented at a ceremony at the Hershey Lodge in Hershey, Pa. on May 21, 2015.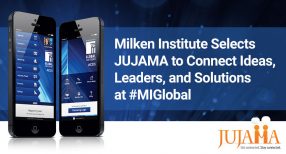 March 16, 2015
For immediate release
The annual Milken Institute Global Conference convenes some of the world's most extraordinary people to explore solutions to today's most pressing challenges in financial markets, industry sectors, health, government and education. JUJAMA, Inc., the leading provider of event networking apps, has been selected to power the one-on-one networking at the 2015 Global Conference.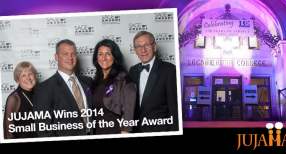 November 19, 2014
For immediate release
SCRANTON, PA— JUJAMA, Inc. has won the 2014 Small Business of the Year Award, presented by the Greater Scranton Chamber of Commerce and MetroAction, a non-profit community development organization that serves small business in Northeastern Pennsylvania. JUJAMA was selected from among several finalists to receive the award, which honors outstanding talent, creativity and innovation.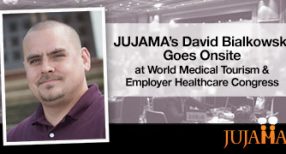 October 29, 2014
For immediate release
SCRANTON, PA – JUJAMA, Inc. Executive Vice President David Bialkowski recently attended the World Medical Tourism & Employer Healthcare Congress in Washington, DC to provide onsite support for the event's highly rated, JUJAMA-powered networking platform, and to facilitate as conference organizers delivered the international networking opportunities that the almost 3,000 attendees of this annual event […]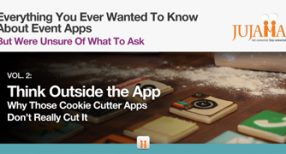 October 06, 2014
For immediate release
SCRANTON, PA – JUJAMA, Inc. — the leading creator of high-impact, easy-to-use event technologies supported by industry-leading customer service — announces the publication of its second e-book, Think Outside the App: Why Those Cookie Cutter Apps Don't Really Cut It. The publication will be the second volume in JUJAMA's three-part series, Everything You Ever Wanted […]
August 27, 2014
For immediate release
SCRANTON, PA – JUJAMA, Inc. — the leading creator of high-impact, easy-to-use event technologies supported by industry-leading customer service — announces a collaboration with Georgia Bio to provide an integrated conference registration and event platform/mobile app for the 2014 Georgia Bio Innovation Summit. The state's premier bioscience conference has an annual enrollment of more than […]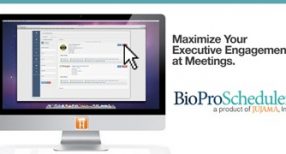 July 23, 2014
For immediate release
SCRANTON, PA – JUJAMA, Inc. — the leading creator of high-impact, easy-to-use event technologies supported by industry-leading customer service — has introduced an efficient, secure executive scheduling tool called BioProScheduler. BioProScheduler enables easy scheduling of company-to-company meetings, especially at offsite venues. BioProScheduler is ideal for scheduling large groups of executives, helping them get to the […]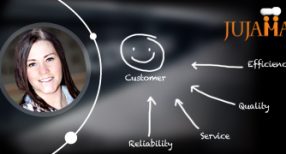 May 15, 2014
For immediate release
SCRANTON, PA – JUJAMA, Inc. — the leading creator of high-impact, easy-to-use event technologies supported by white-glove customer service — welcomes Colleen DeMuro as the company's first Client Concierge. In this role, DeMuro will provide training, project development and on-site event app support services for JUJAMA's conference-provider customers, with the goal of ensuring that each […]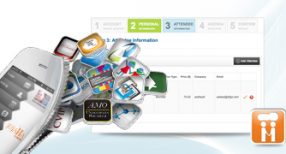 April 15, 2014
For immediate release
SCRANTON, PA – JUJAMA, Inc., the leading creator of high-impact, easy-to-use, fully supported event platforms and mobile apps, has announced the release of its new event registration system. The new system can be used as a freestanding registration platform, and also integrates seamlessly with JUJAMA's event platform and mobile app. The JUJAMA event registration system […]