November 19, 2014
For immediate release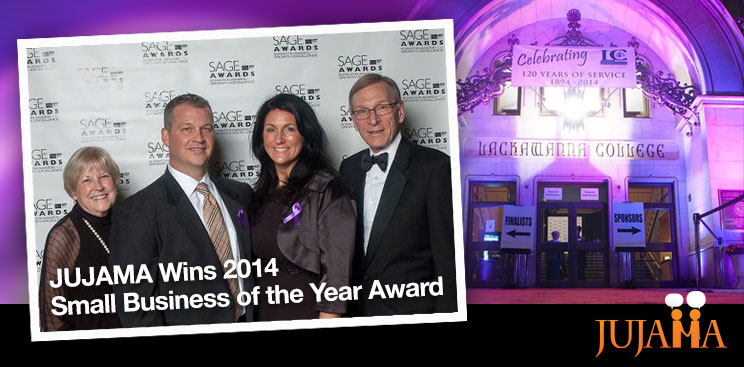 SCRANTON, PA – JUJAMA, Inc. has won the 2014 Small Business of the Year Award, presented by the Greater Scranton Chamber of Commerce and MetroAction, a non-profit community development organization that serves small business in Northeastern Pennsylvania. JUJAMA was selected from among several finalists to receive the award, which honors outstanding talent, creativity and innovation. The awards ceremony was held at Lackawanna College in Scranton on November 11.
Nadia Dailey, President of JUJAMA, said, "I was honored to receive this award on behalf of the entire JUJAMA team. We are all very proud and grateful as we have worked diligently since our founding in 2010 to connect attendees all over the world at conferences through our desktop and mobile apps, making their experience at events more successful. We also hope that JUJAMA's success will inspire other local entrepreneurs to start their companies here, and help our region continue to grow and thrive."
Since 2010, JUJAMA, Inc. has been a leading provider of well-designed, customized, fully supported event apps, mobile conference apps and associated event technologies for meetings and conferences in many industries around the world. With 24/7 customer support and available onsite customer support, JUJAMA delivers technologies that make events more productive for attendees, exhibitors and sponsors, and more successful for event organizers.
For More Information: Adam McIlwee, Director of Social Media Strategy, 570-209-7670 or adam@jujama.com