October 29, 2014
For immediate release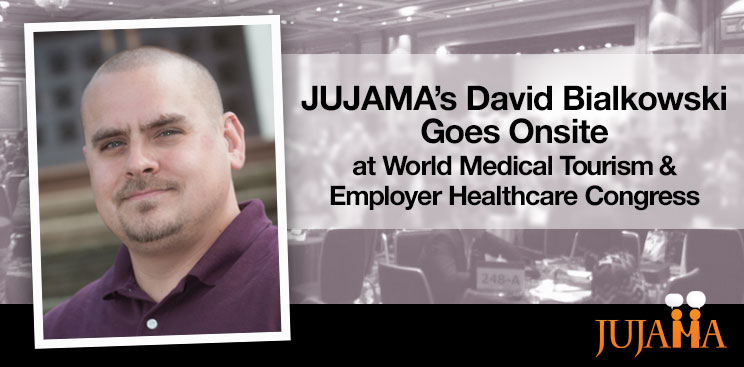 SCRANTON, PA – JUJAMA, Inc. Executive Vice President David Bialkowski recently attended the World Medical Tourism & Employer Healthcare Congress in Washington, DC to provide onsite support for the event's highly rated, JUJAMA-powered networking platform, and to facilitate as conference organizers delivered the international networking opportunities that the almost 3,000 attendees of this annual event have come to expect.
Bialkowski said, "The World Medical Tourism & Employer Healthcare Congress is a hugely diverse group of international participants, each one focused on meeting and collaborating to provide medical and employer healthcare opportunities. The 2014 conference participants called the prescheduled one-on-one meetings "the best benefit of the congress," so, as a representative of JUJAMA, the company that powers the networking platform, I attend the event each year to answer questions and ensure that every participant is able to fully utilize all the features of the platform and mobile apps, including the meeting scheduler. Onsite support is an optional premium service that JUJAMA offers to all our customers."
JUJAMA's onsite presence at the event has become an integral part of the conference's workings. Jenny Dodson, Executive Congress Manager, Employer Healthcare & Benefits Congress—the organization that sponsors the World Medical Tourism & Employer Healthcare Congress—said, "JUJAMA is an incredible platform that allows our attendees to connect and do business before, during and after the congress. The customer support from the staff at JUJAMA is amazing. Even during off hours or weekends, we receive prompt responses. And onsite support is even more amazing! Dave with JUJAMA was an extension of our team. Everyone thought he was part of our team, he was so helpful. He went above and beyond platform questions, answering queries about our congress initiatives, certifications, agenda and speakers. It was a pleasure to work with Dave and the JUJAMA platform!"
Since 2010, JUJAMA, Inc. has been a leading provider of well-designed, customized, fully supported event apps, mobile conference apps and associated event technologies for meetings and conferences in many industries around the world. With 24/7 customer support and available onsite customer support, JUJAMA delivers technologies that make events more productive for attendees, exhibitors and sponsors, and more successful for event organizers.
For More Information: Adam McIlwee, Director of Social Media Strategy, 570-209-7670 or adam@jujama.com