April 15, 2014
For immediate release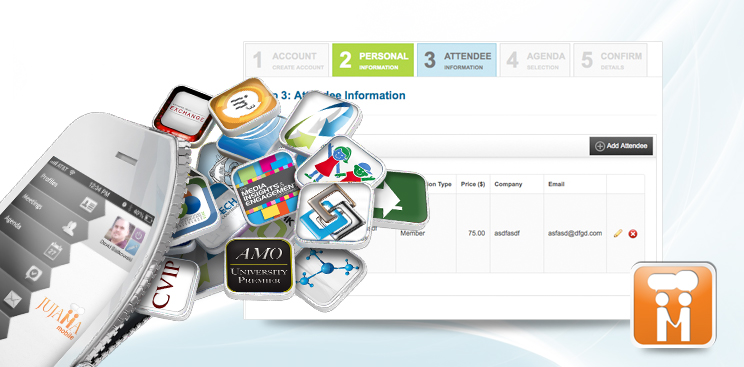 SCRANTON, PA – JUJAMA, Inc., the leading creator of high-impact, easy-to-use, fully supported event platforms and mobile apps, has announced the release of its new event registration system. The new system can be used as a freestanding registration platform, and also integrates seamlessly with JUJAMA's event platform and mobile app.
The JUJAMA event registration system provides a customizable attendee and administrative user interface that focuses on ease of use for both participants and organizers. Attendees enjoy the option to populate a conference profile via their existing LinkedIn profile. The user's profile in then maintained in JUJAMA's records so that when they return to participate in future events through the same organizer, they can simply log in with their email address. On the administrative end, powerful content management tools make it simple for event organizers to monitor registration for the upcoming event, update content, keep tabs on session purchases, print schedules and send alerts. JUJAMA provides full training for event organizers on the use of the system, as well as the same trademark personal customer service for which the JUJAMA event platform and mobile app are known.
Nadia Dailey, President of JUJAMA, said,
"The new JUJAMA registration system is an effective way for event organizers to simplify the registration process for their attendees as well as complete their own analytics on the back end. The registration system operates as an excellent freestanding product, but for JUJAMA event platform customers, it also provides easy and effective 'one stop shopping' and seamless integration to avoid possible third-party interfacing issues between the event platform and the registration system."
David Bialkowski, Executive Vice President, added,
"At JUJAMA, we ensure that our customers have the knowledge and support they need to serve their attendees well. Whether the customer uses the registration system or event platform as a stand-alone product, or enjoys the synergies of using both systems at once, JUJAMA provides 24-hour customer support and even on-site support to help maximize the event's success. JUJAMA goes the extra mile to make our customers' events more productive without creating extra work for the event staff."
Since 2010, JUJAMA, Inc. has been a leading provider of well-designed, customizable, fully supported event technologies for meetings and conferences in many industries around the world. With 24/7 customer support and available onsite customer support, JUJAMA delivers technologies that make events more productive for attendees, exhibitors and sponsors, and more successful for event organizers.
For More Information: Adam McIlwee, Director of Social Media Strategy, 570-209-7670 or adam@jujama.com