Recognizing Our Chairman
Robert W. Naismith, PhD, holds a lead role at JUJAMA, serving not only as our chairman, but as our innovator and mentor. He challenges the JUJAMA family to strive for excellence in everything we do. This week, we would like to congratulate him on his accomplishments outside his work here. The write up for the Black Tie for White Coats Gala from Geisinger Commonwealth School of Medicine says it all…
Robert W. Naismith, PhD has been an innovator all of his life, founding a series of successful biopharmaceutical and financial companies focused on the healthcare and life sciences industries over a 40-year career. He is driven more by the thrill of pursuing bold ideas than monetary gain, but he's never had a problem achieving both. "I've always believed that good ideas find success and that's proven true throughout my career," he said. In his decades building an enviable string of successes, however, Dr. Naismith said one idea has dwarfed all his others. "The medical school founding – that is the penultimate in community innovation," he said.
The story begins with an economic development meeting Dr. Naismith was invited to attend. "The subject of the meeting was whether it was feasible to lure the biotech industry here," he said. "This was in the early 2000s, just as the tech bubble was growing. I thought, 'No, it's not possible.' We just didn't have the intellectual capital in NEPA."
Despite his reluctant "no," the question continued to nag Dr. Naismith. "Eventually, I thought why not go with a big, brash idea? If we really want to go big and change the region, why not a medical school?" he said. From that point onward, Dr. Naismith said, "There was no such thing as 'thinking out of the box,' because there was no box – only obstacles. But many of those obstacles turned out to be advantages." To illustrate, he cites the school's community-based, distributed campus model. "We used this model because it didn't make sense to try to acquire or build a hospital," he said, adding that immersion in community ended up being a unique advantage as concerns with our regional health have grown.
Dr. Naismith is most proud of the fact that the school has leveraged the public's good will to advance programs to benefit the health, wellbeing and the economic future of the community. "The school has made a healthier and more prosperous community possible," he said. "That's an honor, but it's not mine alone. It takes a community of innovators to found a medical school. There are literally sores of people who made this a reality."
Congratulations, Dr. Naismith!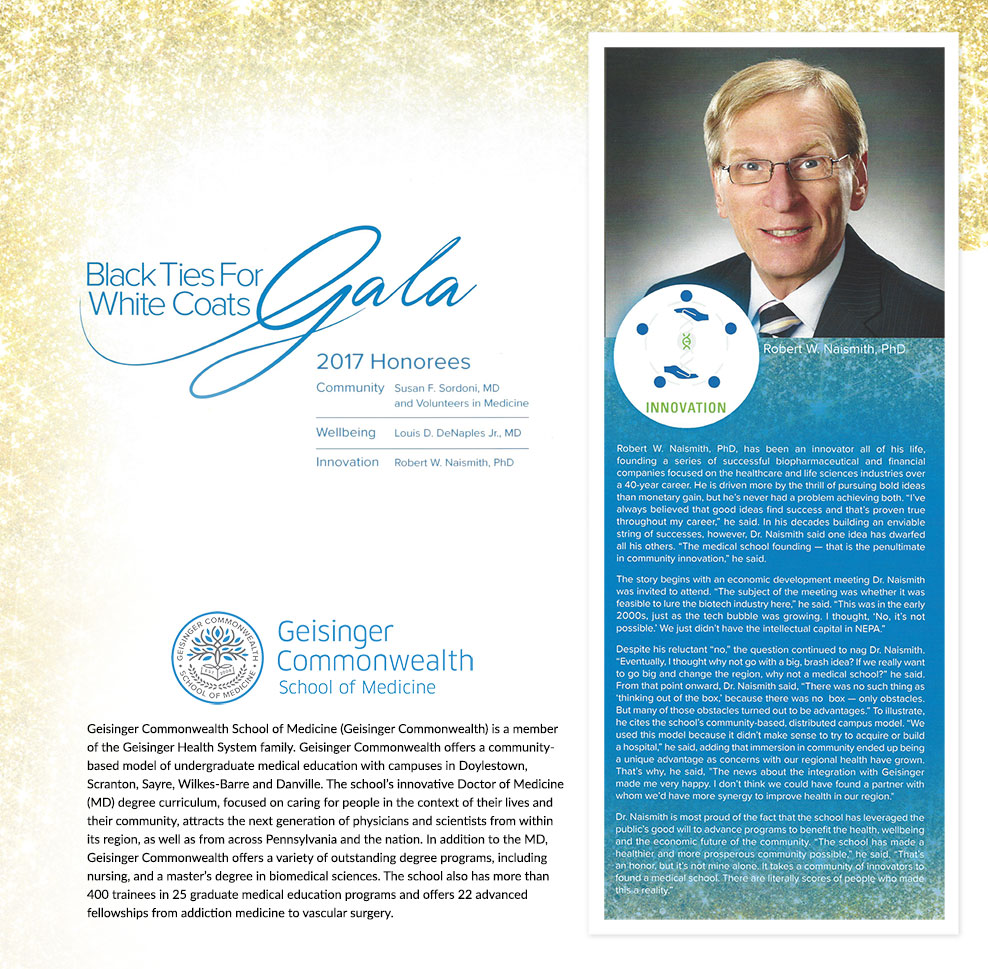 Watch the full video honoring Dr. Naismith here:
About JUJAMA
JUJAMA is a leading provider of well-designed, customized, fully supported desktop event apps, mobile conference apps and associated event technologies for meetings and conferences in many industries around the world. With 24/7 customer support and available onsite customer support, JUJAMA delivers technologies that make events more productive for attendees and more successful for event organizers.