Customer Testimonials
At JUJAMA, we take great pride in our customer service to ensure our #EventProfs can run the most successful events. We take our time to configure the perfect event app for your conference or event. It warms our heart to know that our clients are happy with our services. These customers and their teams took the the time to write us these kind words:
Tarang of the Johnson & Johnson CEO Summit 2017 to Nadia, CEO, President
"I would like to congratulate for this amazing product "JUJAMA". I love it and would like to convey my best wishes to the whole team of JUJAMA.
Regards,
Tarang"
Dan of the Life Sciences Summit 2017 to Dave, Senior Vice President
"I appreciate what you and your Team have produced at JUJAMA. While I'm a tech-semi-savvy guy on the fly, your layout, speed, and convenience make these enormously complicated Industry Dating Conferences — brilliant!"
Kim of The MedTech Conference 2017 to Dave, Senior Vice President
"Dear Dave and JUJAMA Team,
Thank you to your team for your support in helping us pull off another successful event! We appreciate all of the hard work your team puts into the desktop/app and are especially grateful for your attentive (and always quick!) customer service. This year we had our most confirmed meetings to-date! Dave- thank you for making the trip out to San Jose and for manning our info desk & partnering help desk. We can't thank you guys enough for all you do for us. 
All the best,
Kim & The MedTech Conference Team"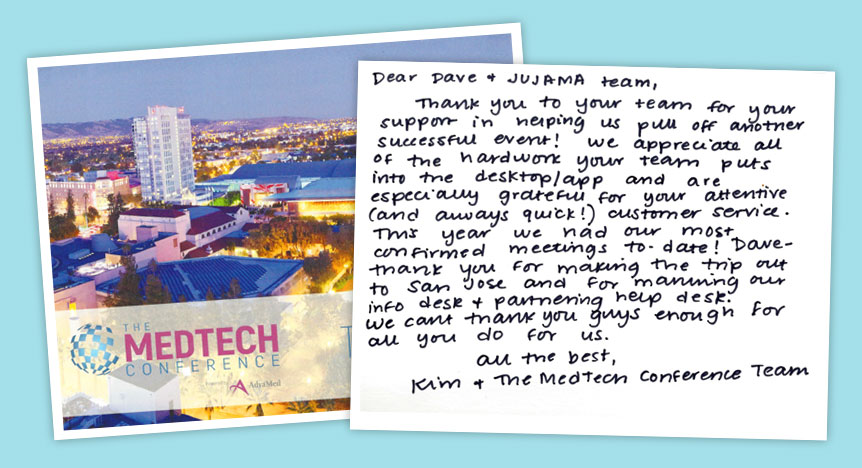 Congratulations to all our #EventProfs and their teams for all their successful and outstanding events! Click HERE to learn more about what JUJAMA can do for your mobile conference apps, desktop event apps, trade shows & more!