JUJAMA Partners With Oregon State University for 150th Anniversary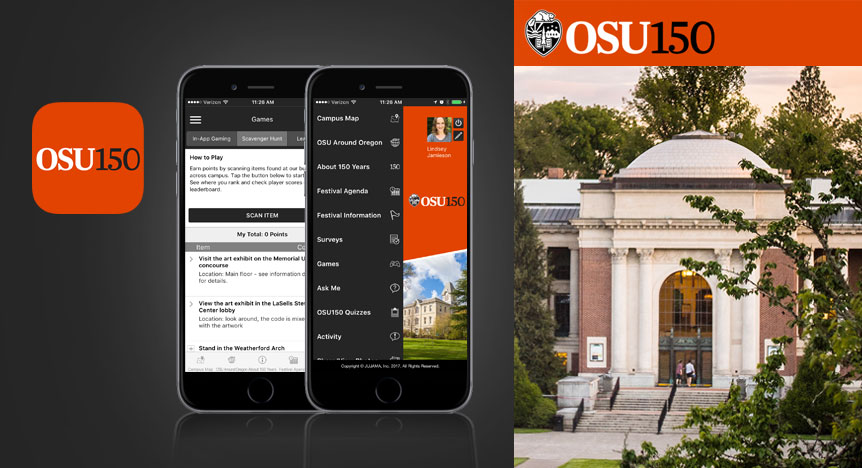 Celebrating its 150th anniversary, Oregon State University has partnered with JUJAMA to provide a mobile solution for visitors attending the four festivals taking place during the course of the 18 month celebration.  The Space Grant Festival was the kick-off event, which took place in August during the weekend of the total eclipse, hosting an estimated 8,000 people. Land, sea, and sun festivals will follow throughout the year to honor the uniqueness of Oregon State being one of only two universities in the U.S. to hold grant designation in these areas.
Attendees are encouraged to download the OSU150 mobile event app from the Apple and Android stores to engage, network and explore the history of the OSU campus.  Nadia Dailey, President and CEO of JUJAMA, was excited to work with OSU to provide an innovative solution that allowed attendees to connect with one another and participate in the activities being offered, "OSU has so much history and delivering the beauty and historical evolution of the campus via our mobile solution was rewarding!".
About JUJAMA:
JUJAMA provides a one of a kind networking community for events in a private, secure platform where your audience can connect and navigate the unique features and functionality you offer.
About Oregon State University:
OSU is a coeducational, public research university in the northwest United States, located in Corvallis, Oregon.  The university offers more than 200 undergraduate degree programs along with a variety of graduate and doctoral degrees. It is also the largest university in the state, with a total enrollment exceeding 28,000.  More than 230,000 people have graduated from OSU since St founding.