We Are Thankful! JUJAMA Named Small Business of the Year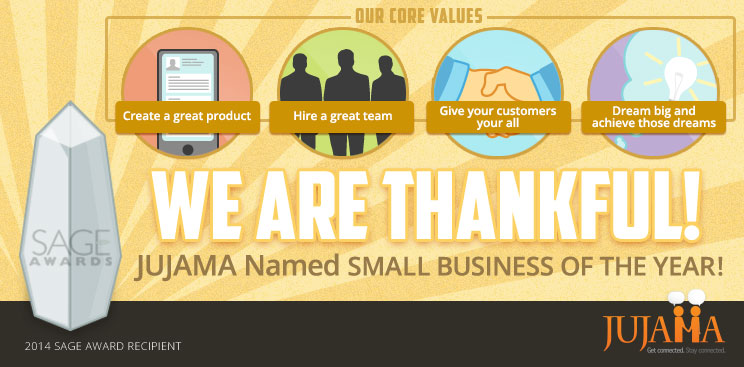 On November 11, JUJAMA was awarded the 2014 Small Business of the Year award by the Greater Scranton Chamber of Commerce and MetroAction, a non-profit community development organization. As the JUJAMA team took the stage at Lackawanna College to accept the award, it really underscored for me the core values at the heart of our company.
-Create a great product: Our event apps and other products are designed to solve real problems, enrich the attendee experience and help our customers succeed. We innovate constantly to make our products better all the time.
-Hire great people: JUJAMA often receives compliments from customers on how responsive, understanding and helpful our team is—we believe world-class customer service is just as important as having great products.
-Give your customers your all: Again, JUJAMA goes the extra mile to smooth the way for our customers; make sure their attendees are using their event app to the max; and help organizers use their mobile conference app to make next year's conference even better. We care, and customers see it in every interaction.
-Dream big and achieve those dreams: Some people think it is impractical to start a technology company outside of IT hotbeds like Silicon Valley, but JUJAMA is proof that this is not true. There are talented people everywhere, and JUJAMA hopes that other entrepreneurs will be inspired by the knowledge that a great team with great products can succeed right in their own home town.
As the President and co-founder of JUJAMA, I am grateful for our success, and thankful to the Chamber of Commerce for recognizing us!