Socially Successful: Event Social Feed Do's & Don'ts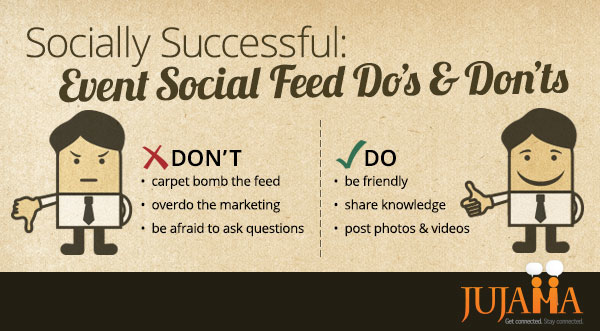 Most of your attendees use social media in their daily lives, so the private social feed in your event app will feel familiar to them. Still, you can help participants make good use of the social feed to improve their conference experience and really make the most from your organization's investment in a mobile conference app. Here are JUJAMA's top tips on social feed etiquette for attendees:
• DO be friendly! Attendees should introduce themselves and mention what their company hopes to accomplish at the event.
• DO share knowledge. Whether your attendee has a news item that other industry insiders would enjoy, or knows the best donut shop in the neighborhood of the venue, they should pass it on via the social feed.
• DO post photos and videos. A picture is still worth a thousand words.
• DON'T carpet bomb the feed. Attendees should be courteous about how often they post—which means watching what other attendees are doing, and making it a conversation, not a monologue.
• DON'T overdo the marketing. One big plus of events is the opportunity to network, but that means connecting person to person. No one likes being flooded with ads when they're trying to make connections.
• DON'T be afraid to ask questions. Attendees should feel free to ask for help with any feature of the event app. The more everyone uses the conference app, the better the event can be!
You can share these tips with your attendees and colleagues through the icons below. At JUJAMA we love to help people get connected and stay connected, so we like to share ideas about event apps and the great things they can do for event organizers and attendees alike!