Cold Feet? Top 3 Fears of First-Time Event App Buyers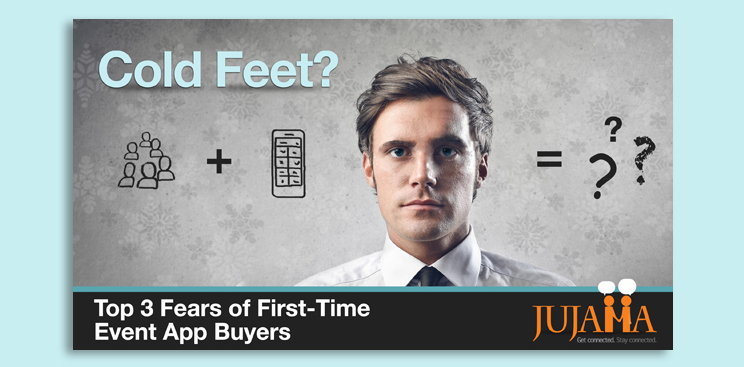 If you are an event organizer considering your first-ever event app, and you're feeling some hesitation, you are not alone! Because event apps and mobile conference apps are a recent development, many event organizers share similar concerns when they begin to research a conference app for their own event. Here are the top three fears of event organizers thinking about buying an event app for the first time:
I don't understand the process:
Sure, because you've never done it before! Fortunately, at JUJAMA, we make it easy for you to go step-by-step from deciding what app features your event needs to creating a beautiful app that helps attendees, sponsors and exhibitors get more from the conference. Then we'll help you deploy that app and encourage your attendees to make the most of it. JUJAMA is with you every step of the way.
My event can't afford a conference app:
Not true! There is an event app for every conference budget, and when you consider the printing costs you can save by going digital, and the new sponsorship opportunities that occur in a digital conference platform, you're most of the way there already.
Attendees won't use it:
Again, not true. People love a simple technology that works—and makes their life easier and better. And that's what your JUJAMA event app does. From the desktop conference app that allows attendees to prepare for the event beforehand and follow up with leads afterwards, to the mobile event app that keeps attendees informed, in touch and on-schedule all conference long, your JUJAMA event app will help attendees have their best, most productive conference ever. And that means higher attendee satisfaction—something nobody's afraid of!