Keeping Attendees 'Appy: 3 Payoffs of Onsite App Support at Your Event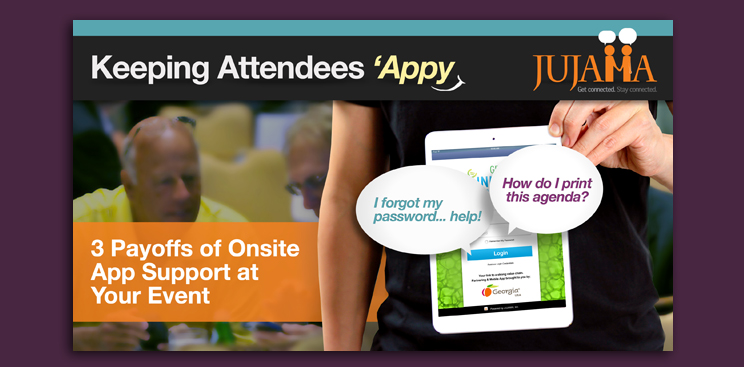 JUJAMA offers optional onsite app support at our customers' events. "Why?" you may ask. "If the app is so easy to use, why would we need onsite support?" Here are the top three ways that onsite app support pays off in real terms:
Maximizing attendee usage of the app:
The app IS that easy to use. But you invested in an event app to improve networking and logistics at your conference, and you only get full ROI from the app if all your attendees are using it. And if they are not using it correctly, or they are having a specific problem, do you really have time to drop everything to help them? Probably not. Having a dedicated app expert onsite means there is someone to send puzzled attendees to, thereby helping everyone get the most out of the event platform.
Keeping your staff focused on event logistics:
Your team already has a full plate on conference days. Can they squeeze in another task? Maybe, but it's much better when your team can simply focus on their core job, run the conference, and allow the onsite event platform expert to handle all app-related tasks. Whether an attendee has forgotten their password or managed to crash the public computer at the app kiosk—How do they DO these things? And why is it always 20 minutes before the keynote?—it's good to have that extra expertise in a crunch.
Fostering high attendee satisfaction:
Call it logistics or return on investment, the bottom line on onsite support is the bottom line of your event: attendee satisfaction and intent to return next year, otherwise known as financial success. By improving your attendees' experience at the meeting—because things ran smoothly, the participants networked effectively and they were able to achieve more of their personal goals by harnessing the power of the event app—you improve their overall impression of the event and increase the likelihood that they will return. And that success—your event's success—is the heart of the value in onsite support.
Learn more about the JUJAMA event platform and onsite support options. Contact us for a demonstration.