How to Ace the J.P. Morgan Healthcare Conference: Tip #1: BioProScheduler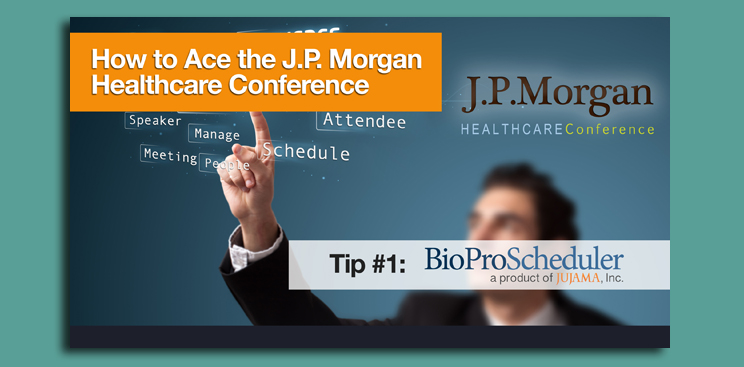 Do you and your team attend the J.P. Morgan conference each year? Whether you are attending the conference itself or planning offsite meetings, JUJAMA's executive scheduling tool, BioProScheduler, can get you in front of other potential attendees so that you can talk about partnerships, collaborations, financings or just have a casual breakfast or dinner. BioProScheduler was built for the attendee, by the attendee—read about how AstraZeneca and Merck worked with JUJAMA to design BioProScheduler in this case study.
Here are 3 tips for getting the most out of J.P. Morgan Healthcare, and how BioProScheduler can help:
1. Sign up for BioProScheduler (BPS).
Whether your company is sending 5 or 75 business executives to scout for opportunity, BioProScheduler allows you to engage other attendees in the most professional, reliable and efficient manner, and provides the flexibility to accommodate the inevitable last-minute schedule changes by enabling the team to prioritize meetings and deploy appropriate delegates to each one.
BPS ADVANTAGE: BioProScheduler is loaded with thousands of contacts within the industry.
2. Start using BioProScheduler right away.
J.P. Morgan is one of the few opportunity-rich meetings where you can schedule face to face meetings outside the conference, and begin partnering, licensing or acquisitions discussions.
BPS ADVANTAGE: BioProScheduler can manage your designated meeting rooms, but if you do not have a dedicated space reserved, the system can assign meetings to other specific points, such as conference venues, public spaces, a local restaurant you like, or other spots you add to the system.
3. Don't focus too narrowly.
It is tempting to go hyper-organized and only give time to prospects who have a strong chance of providing something your company needs in the short term. This is a mistake. J.P. Morgan Healthcare is the key meeting that allows you to build relationships and track progress.
BPS ADVANTAGE: BioProScheduler makes it easy to make last-minute schedule changes without digging through old emails to cancel or reschedule. If an unexpected opportunity pops up, BPS makes it easy to tweak your agenda.
For more information about BioProScheduler, visit the BioProScheduler website or contact JUJAMA to schedule a demo.