E-Business Cards: Easy Contact Sharing at Events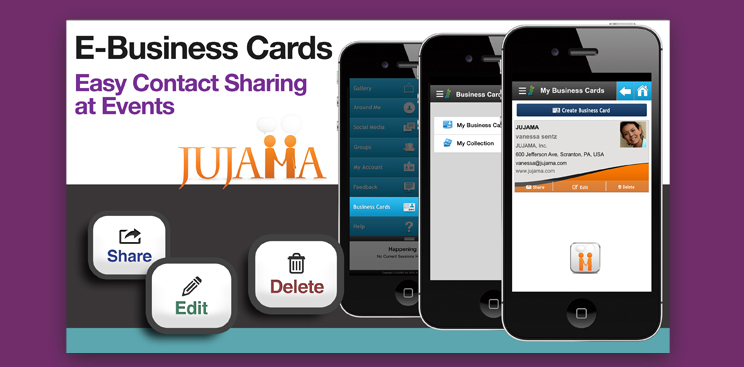 Have you ever run out of business cards before the end of a card swap? How about gotten back to the office and discovered with horror that all the cards you collected at the event are gone? Fortunately, those days are gone. Electronic business cards are simple for attendees to create in your JUJAMA event app, and even easier for them to exchange with other event-goers.
MAKING E-BIZ CARDS
In the JUJAMA event app, every attendee's e-business card is automatically populated with their basic information from registration, such as name, title, company, address and email. There are additional fields such as "mobile phone number" that participants can choose to add, and the option to create multiple cards, so company executives who also sit on the board of an industry group, for example, can share the appropriate customized card with each new contact.
SHARING E-BIZ CARDS
With one click, the attendee can share their business card via the app, or by email—great for connecting a new contact to a more relevant manager who was not part of the delegation to the event. This card-sharing capability is also available on JUJAMA's trademark desktop platform, which makes post-event follow-up very convenient.
COLLECTING E-BIZ CARDS
Directly adjacent to the e-biz card creation tab is My Collection—the spot where the app stores all the cards your participant gathers at conference networking functions. Having all the cards in one place makes for easy browsing and retrieval, and this screen also provides one-tap migration, so participants can selectively move contacts from My Collection to the attendee's personal address book.