Epic Customer Service Is Essential To Successful Conference Apps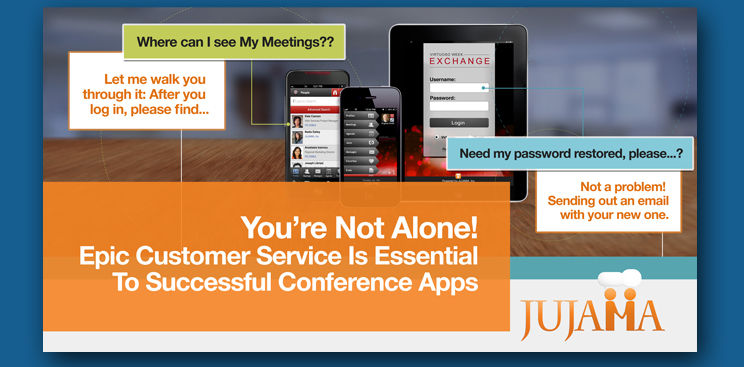 HAPPY VALENTINE'S DAY! JUJAMA Loves Our Customers—And They Love Us Too
"I really appreciate the high level of customer service you provide—makes my life so much easier."
"I'm amazed you were able to get our customized platform done so quickly! Thanks!"
"I've received comments that this was the best networking event our attendees have experienced. We are very pleased!"
"With all the app company reps I have been in touch with since summer, I really can't imagine having had a better working relationship with another company…especially when considering our never-ending questions and ideas."
"We could not have planned [our event] without you and the JUJAMA system…thanks…see you there!"
It certainly can be cheap and easy to get a "cookie cutter" conference app for your event. Yet when you're having trouble with it, or can't figure out an important function, or one of your attendees manages to lock themselves out (there's always one, isn't there?), who's there for you? As we mentioned in Think Outside the App II: Three More Things a Basic Event App Can't Give You, customer service is one of the crucial elements to the success of a conference platform—no matter what the size or budget of your event. Why is customer service so important to success? Here are three reasons:
So you don't waste time: With an experienced customer service team on call, you can simply ask any questions you might have, instead of trying to figure everything out for yourself. One reason JUJAMA customizes our event platform for each client is so that every conference gets what it wants and needs—all explained up front, with a minimum of time invested by you, the customer.
So you can pass your knowledge on to your participants: Once you've been introduced to your conference app and walked through all the features, it's a snap to help your attendees with their questions. In the case of JUJAMA's platform, the interface is intuitive and easy to use, making it simple to learn and easy to explain to your attendees (if they even ask—like we said, we designed it to be familiar and simple to use.)
So your participants take advantage of everything your platform has to offer: Understanding how to build media-rich profiles, how to ask for and schedule meetings and how to follow up with potential partners—all these things can mean the difference between a so-so networking event and a highly productive one. Good customer service for your event app maximizes your participants' satisfaction with the conference, and enhances your ROI.
At JUJAMA, every customer has a dedicated customer service representative, backed up by our entire experienced team. We also offer optional on-site support at conference events to take the heat off your very busy staff.