A Tablet In Every Bag: Why Conference Tablets Are The Future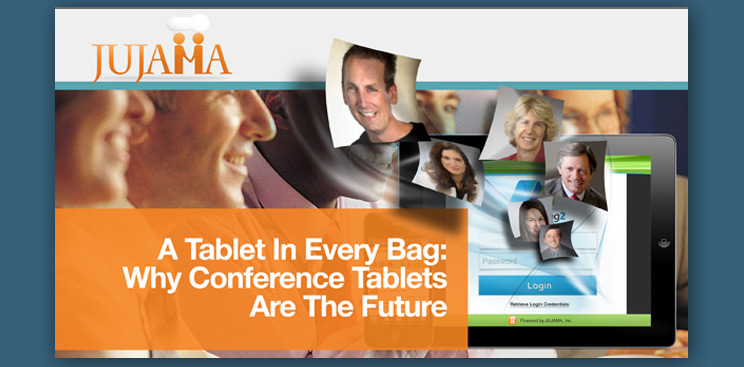 We recently noted that the Transcatheter Cardiovascular Therapeutics conference has gone fully digital by giving each attendee a tablet computer pre-loaded with conference materials, completely eliminating the cost of printing the conference binder and making it possible to provide a much richer, interactive data environment to event-goers.
Here at JUJAMA, we expect to see tablets as the norm at every event within the next few years, because they work for attendees, sponsors, exhibitors, speakers and presenters and event planners.
For attendees: Full schedule information and personal scheduling capabilities, interactive maps, rich speaker and vendor content, meeting invitation and response capabilities and more, all organized, lightweight and easy to use. At JUJAMA, our event platform comprises desktop access before and after the event as well as mobile device access during the conference, so attendees are not personalizing their schedule for the first time when they receive a tablet at registration. The tablet—pre-loaded with their name and password—already contains the tailored content the participant had been tweaking from their desktop computer for the past few weeks.)
For sponsors: Opportunities abound to get in front of the conference audience with background images, branded content pages, video content and presentation pack, complementary games and more.
For exhibitors: Organizers can sell a tiered presence on the tablet, from basic interactive information, vendor location, links to website, etc., all the way up to premium video content so exhibitors can provide a multimedia experience for their audience—one that goes home from the event with the tablet and the attendee.
For speakers and presenters: Engaging the speaker and the audience will will be in the hands of every attendee. Speaker/audience engagement is in the hands of the attendees–no need for the event organizer to have the additional cost of pay for an ARS (automated response system). The tablets come will be pre-loaded with live polling software for everyone to become engaged.
For event planners: Apart from the significant cost savings that comes from eliminating printed event materials, conference organizers can expect pre-loaded tablets to deliver a big jump in attendee productivity and therefore satisfaction with their meeting, as well as increased ROI for sponsors and exhibitors due to the data-rich outreach available to them via the conference tablet. Organizers can also use the tablets to reach out to attendees about future events, solicit feedback and continue to build their relationship with the once and future event participant.