Think Outside the App II: 3 More Things a Basic App Can't Give You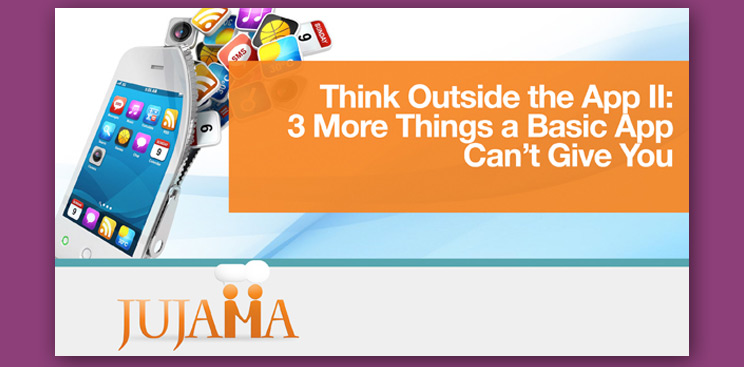 Last time we talked about 3 Things That Basic Event Apps Don't Understand.
Today let's talk about three more things cookie-cutter apps cannot bring to your conference — things that make your meeting more successful for your participants, and easier for you.
Flexibility of Access:

We value our time and our eyesight too much to want to type initial messages and meeting requests to other attendees on a touchpad or smartphone. But we love last-minute updates, social networking and having full conference data in our hands during the event. Then afterwards when we are back at our desks, we want to pursue proper follow up—on our work computer.

That's why JUJAMA offers both a desktop event platform and an integrated mobile app—so your attendees can plan for the conference at their desktop computer, with its conveniently full-sized keyboard, weeks in advance of the event. Yet they still have fully functional on-location abilities, using their phone or tablet, to:

Check their schedules and sessions of interest
Respond to live polls
See what others are posting
Navigate through conference venues
Follow conference buzz
Find their friends and colleagues for meetings and last-minute get-togethers.
And, yes, finish those meeting requests and profile data postings that didn't quite get done before the event!

Basic event apps do not offer on-site support at your event. But this support is a game-changer for many event organizers and their attendees. Having a knowledgeable, friendly JUJAMA representative on hand to work the platform kiosk ensures that participants get the most from your investment in event software—and also ensures that your own staffers are not tied up answering platform questions when there is so much else to do.
On-site support is an optional feature in JUJAMA's event packages, but it's one that organizers and attendees say brings extra value for them.

Many basic apps get a basic job done in digitizing your conference, but give minimal effort to projecting your brand to attendees. JUJAMA's desktop and mobile event platform is customized to your colors and graphics, and beautifully designed to enhance your brand.

The up-to-the-minute interface design and cutting edge functionality both underscore the quality of your event and the value of the services you provide to attendees.