Think Outside the App: 3 Things Cookie-Cutter Event Apps Can't Do For You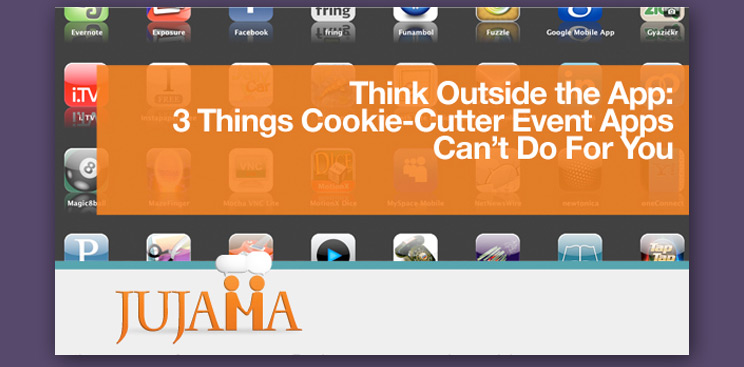 How far can you go with a basic event app?
Event apps are not just a way to avoid printing a paper conference guide. Meeting organizers should think about the value to their attendees of event preparation and pre-networking—and the attendant problem of security, so much a part of life on the Internet these days.
Event platforms should have terrific interactive content, not just exhibitor advertising. Attendees will generate their own content as a way to tell their story if you give them an easy way to do it.
That's why JUJAMA fully populates the platform via registration data, then makes it easy for attendees, exhibitors, speakers, etc. to upload documents, video, photos, comments—and to collect, follow and curate other people's information to get a better picture of who they'd like to meet at the event.
Result: media-rich, engaging conference experience.
Attendees should be able to maximize event productivity by preparing beforehand. It saves time and streamlines the event experience if participants can plan ahead on what panels to attend, see who else will be there, set up meetings, find out what old friends will be around for dinner—and by the way, who needs to manage all that on a smartphone keypad? That's why JUJAMA's desktop platform is a real time-saver.
The heavy lifting of conference prep can be done at your desk, with a full-sized keyboard.
And because everyone is on the event platform, getting ready, the buzz about the conference begins to build. Then attendees arrive at the meeting, switch to the JUJAMA mobile app and manage their schedule and social networking from there.
In-conference apps should be secure. With so much detailed content uploaded by participants, should their identities, contact information, presentations and photographs be available to anyone who feels like downloading the conference app? JUJAMA doesn't think so.
That's why we password protect our conference content—when an attendee "enters" the conference platform, it's like they just walked into your secure event hall.
The time for wondering if your event needs an app is past—of course it does. But many event apps are basically paper made electronic, with no vision of the possibilities of the medium.
JUJAMA offers far more than these free or low-cost cookie-cutter apps—we offer a competitively priced, fully functional, secure, complete event platform (yes, with a mobile app!) to help attendees get the most from the event.
JUJAMA is not about stuffing your meeting into an app—it's about helping your meeting reach a new level of potential.