Keep attendees engaged using In-App Gaming features
The In-App Gaming features are a great way to keep conference attendees involved in the day's activities, encourage them to use app features, and network with one another. Choose from over 15 different game types that allow participants to earn points and badges for completing various tasks.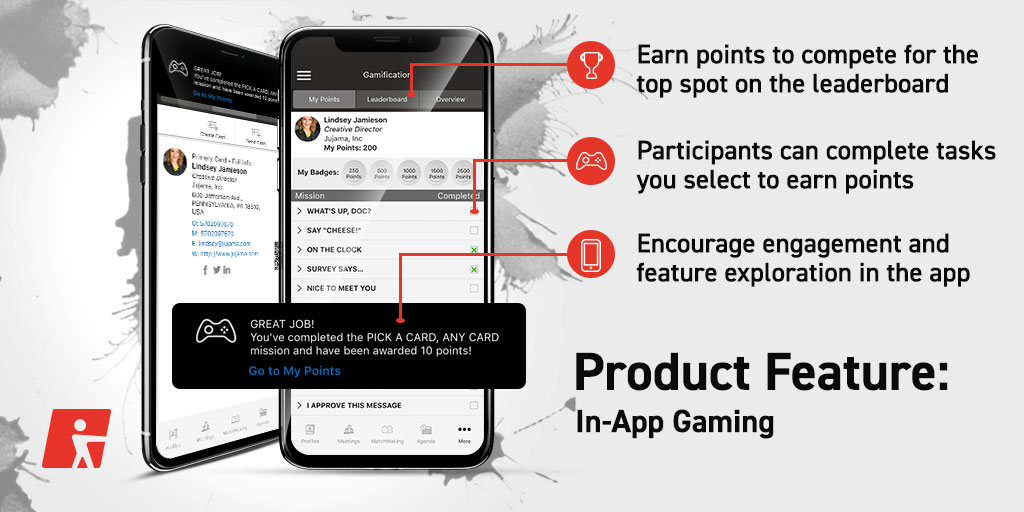 Event organizers can use this feature to create just about any type of challenge they can imagine. Some use it as a way to walk attendees through a venue or to learn a certain topic. Others have used this as a way to provide entertainment to their attendees during breaks.
How does the feature work?
Participants choose a game and then follow simple instructions on how to gain points by completing activities to make it to the top of the leader board. As an example, the game Counting Cards requires an attendee to share five digital business cards within the app with other attendees to earn the Counting Cards badge. This helps to engage attendees to network with each other.
Other game types include:
Nice to Meet You – Scheduling one-to-one networking meetings
Popularity Contest – Receiving likes or comments on social feed posts
Making Moves – Scheduling 5 meetings
Getting To Know You – Filling our your entire profile
(and many more)
This feature encourages attendees to stay engaged and try out the other features within the app. We've seen much higher engagement when organizers use this In-App Gaming feature than when they do not. Consider using this feature with your next event!