Increasing attendee ROI with powerful One-to-One Meeting features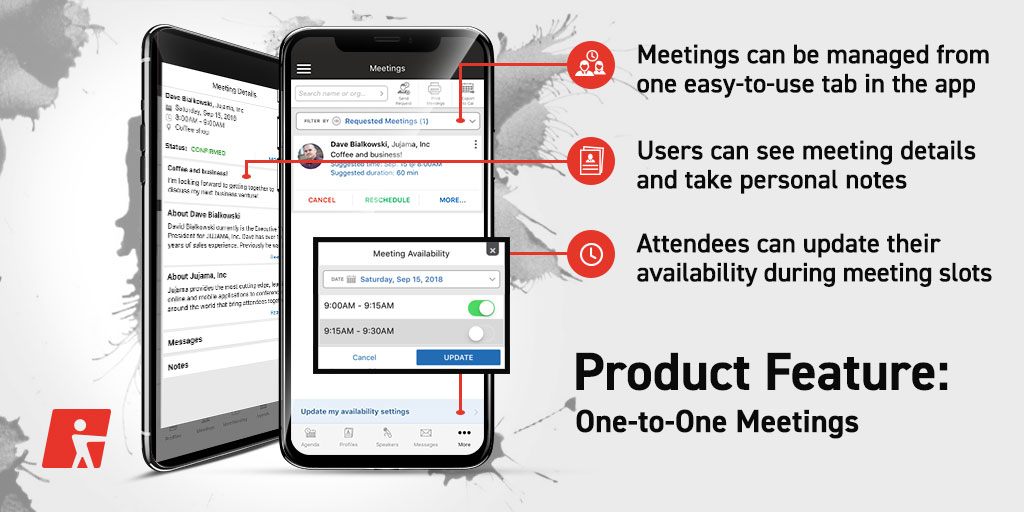 Attendees want to get the most return for their investment in attending your event. One way for them to create #BetterEventExperiences is to set up networking opportunities that will lead to personal and professional growth. In our experience, an overlooked opportunity in the event organization space is creating robust one-to-one networking opportunities for event attendees.
By using Jujama's mobile apps event organizers can empower their attendees to create networking opportunities they never could have otherwise. Our one-to-one meetings feature makes it easier than ever for attendees to connect with fellow event attendees, speakers, or organizers.
How a networking opportunity is created in Jujama's mobile apps:
Search for a person or group – Attendees can search based on name, organization, keywords, interests, and more. There are options to meet during event hours, after the event, or anywhere you'd like. Attendees are able to create one-to-one or group meetings. It is quick and easy to create many networking opportunities.
Send a meeting request – By selecting a time and location, an attendee can make a request of a person or group to meet.
Accept or Reject a meeting request – The requested parties can accept or reject the meeting requests they receive, which notify the requester of their decision.
The attendee or group meet!
Note: Networking features are not the same as Matchmaking features. To learn more about how your event can use matchmaking to automate the meeting request process please see our other blog post or request a demo.
Our networking features are used by many events globally every year including The Lodging Conference, AUTM, and dozens of Wordwide Business Research events.