Attending BIO 2018 in Boston
Jujama's Chairman Dr. Robert W. Naismith, Ph D took the opportunity to travel to Boston for this year's  BIO International Convention (BIO 2018). The event was so popular that it now holds the Guinness Book of World Record's Largest Business Partnering Event record. Congratulations to their team for organizing such a successful event!
What is BIO?
The BIO International Convention "attracts 16,000+ biotechnology and pharma leaders who come together for one week of intensive networking to discover new opportunities and promising partnerships." The convention also offers education to advance your business through keynote speakers and training sessions.
A few 2018 program highlights include:
8 sessions focusing on vaccines, gene therapy, and more
Over 200 company presentations on more than 25 topics
More than 40 stadium-pitches to investment judges
… and so much more.
The convention offers around 20 different tracks to attract convention goers from various backgrounds. Tracks include brain health, digital health, genome editing, intellectual property, and personalized medicine and diagnostics. With all these topics to choose from,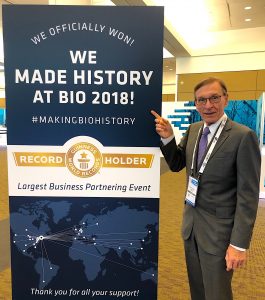 everyone can find something that interests them.
In addition to executive training programs and keynote speakers, including Good Morning America's co-anchor Robin Roberts, the convention also offers fast-track one day options and intensive courses on strategic considerations and tactics.
What an event!
It was fantastic to run into friends and colleagues old and new at this year's BIO 2018. We look forward to attending in the years to come.