Never Again!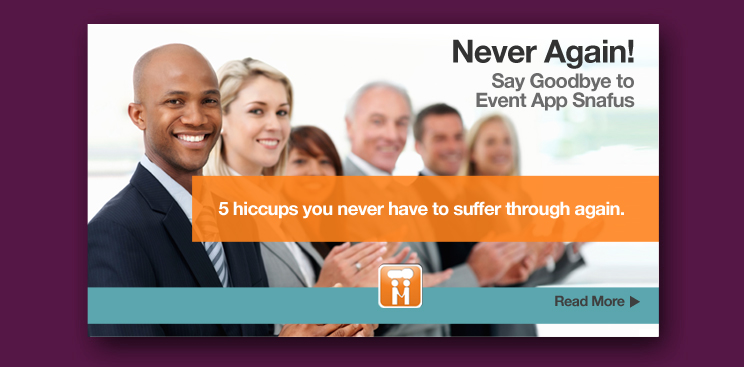 Event platforms have come a long way in the last few years—and JUJAMA's app in particular prevents the traditional headaches of event organizer and attendee alike.
Here are six snafus you never have to suffer through again:
Mid-Event System Crashes:
JUJAMA uses rock-solid hosting technology to provide top performance and super-reliable service.
Time-Intensive Meeting Scheduling:
With a fully populated in-app contacts database, participants can find out instantly who is attending your event, and contact them for a meeting.
Attendees Too Shy To Comment:
With in-app polling, participants don't have to walk up to the microphone to voice their opinions—so your sessions benefit from the ideas of all participants, even the introverts.
Lost Business Cards:
In-app electronic business card sharing means your attendees will never again leave valuable contact information under the seat on the airplane—or run out of cards at the reception.
Manual Blocking of Speakers' Lecture Times:
JUJAMA's platform automatically blocks out a speaker's lecture times in his or her personal meeting schedule, saving organizers lots of data entry time.
No Interface Design Options:
JUJAMA provides 3-5 customized design options for your event platform user interface, so you can select the one you like best, with your branding, style and performance in mind.