Increase attendee ROI using Matchmaking in Jujama's Event Apps
Jujama's event apps are designed to make networking simple and efficient. The Matchmaking feature automatically connects you with the attendees you need to meet. We are constantly improving our matchmaking features to maximize your attendee's effectiveness at your event.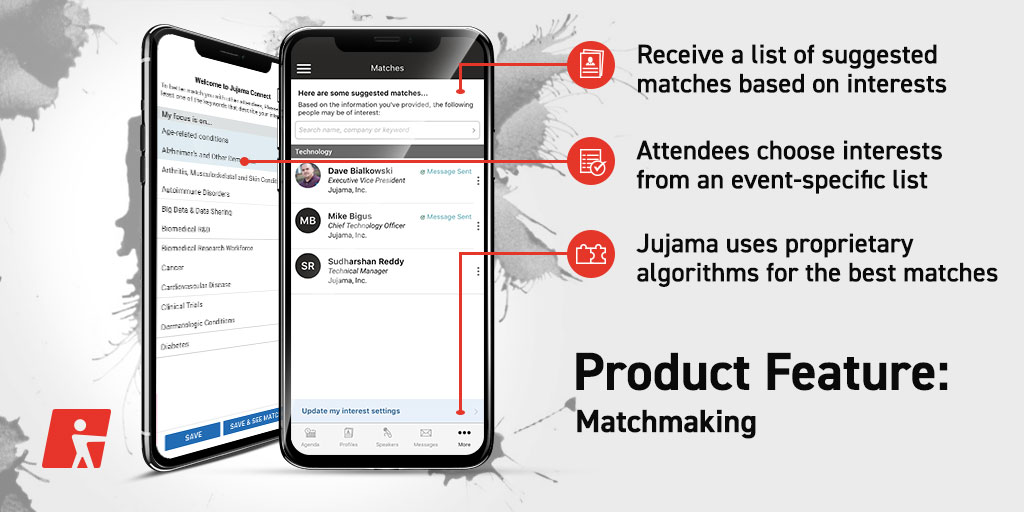 How does the feature work?
Attendees can find networking at events to be an overwhelming and time consuming exercise. By providing your attendees with the time, space, and proper tools to meet – they will get the most return from their investment in attending your event. With Jujama's Matchmaking feature, our apps can play a valuable role in utilizing the attendee's time efficiently.
The Matchmaking feature pairs individual attendees together based on their common interests. Using proprietary algorithms, Jujama can match thousands of attendees together – saving them and the organizer a lot of time.
Attendees, sponsors, and conference organizers alike can take advantage of the app's Matchmaking feature to grow their connections. The app allows for the user to use the messaging and scheduling features to set up times to meet up with their newly found connections.

What value does the feature add?
Jujama's advanced Matchmaking feature has many benefits, including that it increases the number of attendees that complete their event profiles. This helps the organizer to know more about their attendees. Also, by meeting with just one right person, it can result in a much better ROI when attending an event. By using Jujama at your event, one meeting could return nearly 400 times the investment.